Philip Edward Harding
Recent line-work (late 1990s to 2015)
In the late 1990s I headed off to graduate school to study Sanskrit and Hindu temple geometry. I didn't have time for large color drawing but I still wanted to keep my hands and eyes active. I began what would become a nearly two decade project of filling sketchbooks with small, simple abstract line drawings. The early drawings were quick, clumsy, mostly bad, and very necessary. When I returned from graduate school I had a new vocabulary of drawing which I continued to expand on in both sketchbooks and on larger loose sheets of paper. Many of the best have become the basis for some of the large colored pencil and oil pastel drawings, acrylic paintings, and digital images shown elsewhere on this website. At the bottom of the page you will also find several video slide shows of some of my recent sketchbooks to give some idea how visual thoughts evolve over time as well as what I mean when I speak of "exercises in abstraction."

The first 14 images are ink on 11 x 14" watercolor paper and were exhibited in a 2008 show called "A Sense of Being: Interior/Exterior Resonnances." They are all untitled and are currently framed with double white mats and natural wood frames.
Click here for a 1600 x 1136 version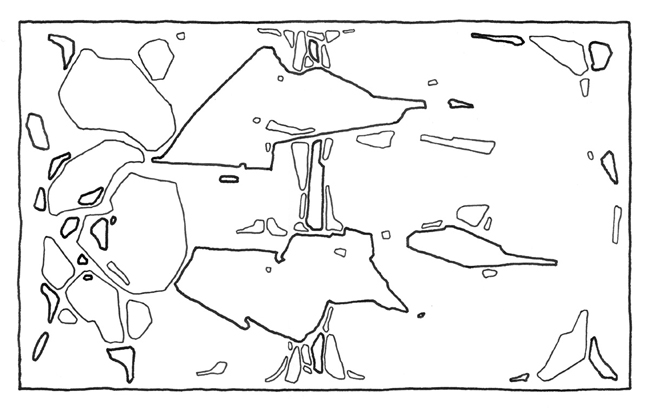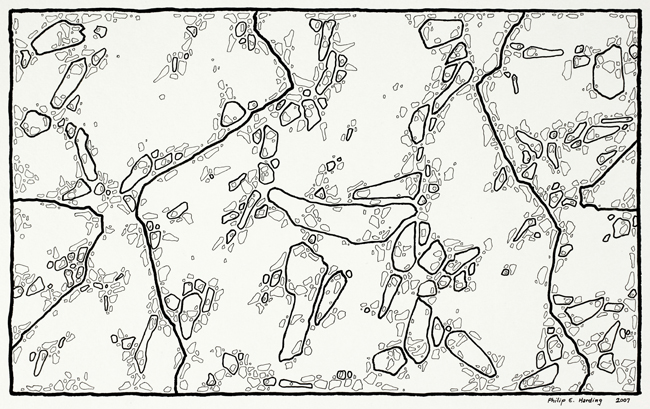 Click here for a 1600 x 975 pixel version
The next eight images were adapted from sketchbook studies, redrawn on 11" x 14" sheets of watercolor paper in 2007 and then embellished with colored pencils around 2014 or 2015.
This next set of images are from volume #18 -- a 9 x 12" 75lb sketchbook. To date I've keeped all the pages of all the sketchbooks intact.
At one point I was thinking I could make images that would wrap around coffee mugs or lampshades. The next five images are from sketchbook #10, a 9 x 10", 100 page, volume where over 90% of the images have the same long and thin proportions.
The last set of images were drawn on loose sheets of paper. The first was on fairly heavy stock but the rest, like hundreds not shown, were drawn on basic typing paper and date from the 1990s, before I started using a numbered sketchbook system.